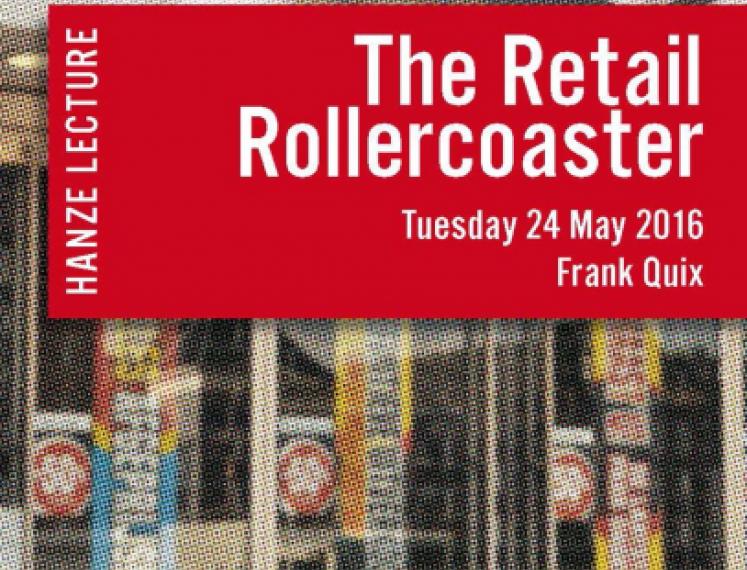 Archive
Hanze Lecture
English
Location
Van DoorenVeste
Zernikeplein 11
Groningen
Netherlands
The Retail Rollercoaster
Frank Quix
The downfall in the retail sector seems to be unstoppable. The internet is often mentioned as the major disrupting factor. But, is this really the case?
The retail sector is being hit severely. Large retail chains like V&D, Scapino and Perry Sport are collapsing nowadays. Bankruptcies are the order of the day. What is actually happening here? The retail sector is the largest private employer in the country. However, the sector's downfall seems to be unstoppable. What are the reasons for this? Is the internet, and especially internet sales, the main reason for the disruption of a whole sector? Frank Quix  elaborates on the changes in the retail sector and explains them by using the so-called 'PET model', a model which he developed. The model shows how changes in population, economy and technology influence the retail landscape. He shows how all stakeholders within the market missed, or at least underestimated, important trends. How can the disruption of the market be explained based on developments in the last 20 years and what can be expected to happen in the future? Prepare yourself for the retail rollercoaster.
Frank W.J. Quix grew up in a retail family. He studied Business Administration and Accountancy at the University of Groningen. After his study, he combined working at Moret Ernst & Young in the retail accountancy practice with teaching at the Faculty of Economics and Business at the University of Groningen. Furthermore, he occupies the Anton Dreesmann Chair for Retail Marketing at the University of Amsterdam since 2005. Quix is the managing director of Q&A Research & Consultancy. At the end of 2015, he was appointed as a member of the management board of the Ebeltoft Group, which is a worldwide network of retail consultancy firms. Q&A is one of the member firms of this group. With more than 20 years of retail advisory knowledge, Quix and the Q&A team started the Store of the Future in 2014. This store in a shopping centre is being used as a lab to test new retail innovations.  
This lecture is organised in co-operation with the bachelor Small Business & Retail Management of the Hanze University of Applied Sciences and the master Small Business and Entrepreneurship of the University of Groningen.