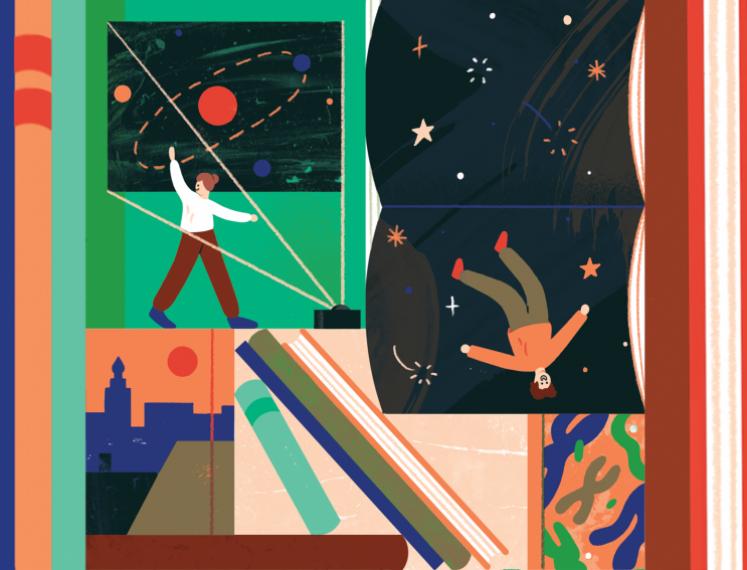 Blog
Wat is Studium Generale Groningen?
What is Studium Generale Groningen?
Deze week verwelkomen we nieuwe studenten in Groningen, dus een perfect moment om ons voor te stellen. Studium Generale organiseert vernieuwende en multidisciplinaire activiteiten op het gebied van wetenschap, cultuur en maatschappij.  Wil je wel eens verder kijken dan je eigen studie? Ons programma bestaat uit talks, kenniscafé's, kennisdiners, films, workshops, debatten en meer.
- English version below -
Welke invloed hebben de ontwikkelingen op het gebied van genetica op ons zelfbeeld en onze medische toekomst? Waar komt onze fascinatie voor Dinosauriërs vandaan? En hoeveel weten we eigenlijk over deze mysterieuze reuzen? Op 18 augustus staan we met een theaterlezing van Lieven Scheire op het NoorderZomerprogramma in het Grand Theatre over DNA. In september organiseren we een lezingenserie over Dinosauriërs, een Kenniscafé Virusverhalen met Groningse wetenschappers die meer vertellen over hun onderzoek naar Covid-19, en natuurlijk nog veel meer programma. Nieuwsgierig? Bekijk ons programma voor de komende weken. 
We organiseren meer dan 80 evenementen per jaar en deze zijn bijna allemaal gratis toegankelijk voor studenten. Als je zeker wilt zijn van een plek, kun je een (gratis) ticket reserveren via onze site. De ticketverkoop voor ons septemberprogramma start op 24 augustus. 
Dit jaar kan het zijn dat onze programma's er net wat anders uitzien vanwege maatregelen rondom Covid-19, maar ze gaan wel door (in aangepaste vorm).
Kun je niet wachten? Speciaal voor de zomer maakte wij een selectie van lezingen uit ons archief voor de Watchlist Summer School.
Studium Generale Groningen is een samenwerking tussen de Rijksuniversiteit Groningen en Hanzehogeschool.
Instagram | Facebook | Twitter 
Illustratie: Jaime Jacob
---
- English version -
This week, we welcome new students in Groningen, so that makes a perfect moment to introduce ourselves. Studium Generale organises innovative multidisciplinary activities in the field of science, culture and society. Do you want to look further than your own studies? Our programme contains talks, science cafes, science dinners, films, workshops, debates and more. 
How do scientific developments in the field of genetics influence our self image and medical future? Why are dinosaurs so appealing to us? How much do we really know about these mysterious giants? On the 18th of August we'll organise a performance lecture of Lieven Scheire at NoorderzonZomerprogramma (in Dutch). In September we start our lecture series on Dinosaurs, a Kenniscafé Virusverhalen where researchers from Groningen talk about their research on Covid-19, and of course many more events. Curious? Check out our programme for the upcoming weeks.
We organise over 80 events per year, which are often for free for students. If you want to be sure of a seat, you can get a (free) ticket via our website. Ticket sales for our September programme starts on the 24th of August.
This year, our activities can look a bit different because of restrictions due Covid-19, but we'll keep organising events (adapted to the circumstances).
Can't wait? For our Summer Break we selected lectures from our archive in Watchlist Summer School.
Studium Generale is a collaboration between the University of Groningen and Hanze University.
Instagram | Facebook | Twitter 
Illustration: Jaime Jacob
11-08-2020