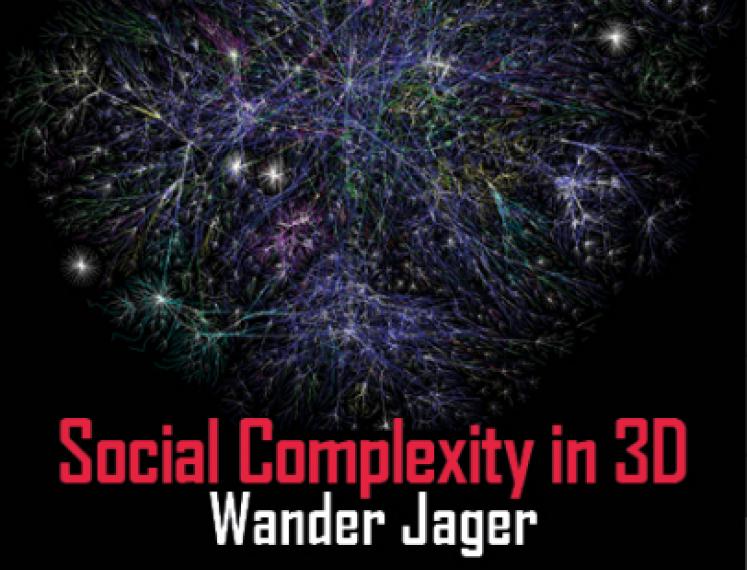 Archive
English
Location
Infoversum
Vrydemalaan 2
Groningen
Netherlands
Social Complexity in 3D
Wander Jager
Social complexity is a new way of looking at the social sciences. Social systems exists of many individuals who are interacting with each other at the same time. The outcome of these interactions influences the individuals and at the same time the individuals influence the interactions. This creates very complex systems that have always been hard to analyse for social scientists, however, thanks to advances in computer technology we are finally starting to get insight in some of these mechanisms. Wander Jager researches how collective behaviour emerges from interactions between people. A good start to understand social complexity is by visualising it in 3D models. In this way we address questions like: How can it be that our society is so ordered and complicated and yet not thought out by one person? So many phenomena just seem to emerge out of our complex society. How does this work?
Wander Jager is an Associate Professor at the University of Groningen and Managing director of the Groningen Centre of Social Complexity Studies. Jager's research and teaching focuses on how interactions between people gives the impetus to the emergence of collective behaviour. He is one of the main teachers in the free open online course: 'Decisions in a Complex and Uncertain World' by University of Groningen. 
Organised in collaboration with Faculty of Economics and Business and related to the free online course offered by the University of Groningen: 'Decision Making in a Complex and Uncertain World'. This course runs from September 15 till October 26th and you can join for free at any time at: futurelearn.com/courses/complexity-and-uncertainty.