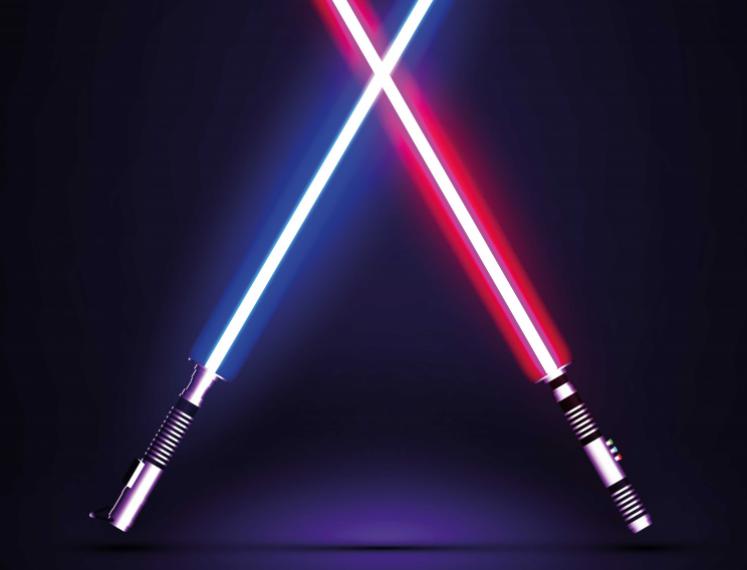 Archive
Nederlands
Location
Martinikerk
Martinikerkhof 3
Groningen
Netherlands
Tickets
€6,-/€3,- voor studenten en SG-kortingspashouders (incl. 1 consumptie)
Nacht van de levensbeschouwing
Populaire cultuur
Stine Jensen, Diggy Dex e.v.a.
In een tijd waarin kerken en moskeeën leeglopen zoeken mensen op heel andere manieren naar zingeving en een eigen levensbeschouwing. Bijvoorbeeld via sport, popmuziek, films, televisieseries en sociale media.
Note: conversation between Stine Jensen and Diggy Dex is in Dutch, but some workshops are in English (more information below).

Populaire cultuur zorgt voor ontspanning en vermaak maar kan ook morele vorming, sociale binding en zingeving bieden. Heeft de populaire cultuur de rol van religie overgenomen? Tijdens de tweede Nacht van de Levensbeschouwing gaan rapper en producer Diggy Dex en filosofe en voormalig Wie is de mol-kandidaat Stine Jensen hierover in gesprek. En uiteraard kunnen ook studenten hun vragen aan de sprekers stellen. Gespreksleider is theoloog en regisseur Kees Jan Mulder.
Vanaf 21.00 zijn er kleinschalige lezingen en workshops over thema's als voetbal als religie, de verborgen ideologische en levensbeschouwelijke boodschappen in Disney films (The Lion King, Ariël en de Kleine Zeemeermin), religie en spiritualiteit in Star Wars (Is het Jedisme een nieuwe levensbeschouwing?), en de zeggingskracht van popmuziek. Maar je kunt ook tot rust komen bij de workshop mindfulness of genieten van filmmuziek op de gewelven van de Martinikerk. Voor deelname aan de kleinschalige lezingen en workshops kun je je aanmelden vooraf via dit formulier of in de kerk.
Tijdens de Nacht van de Levensbeschouwing spreken verder onder andere literatuurwetenschapper en populaire mediadeskundige Dan Hassler Forest, socioloog en voormalig Olympisch atleet Ruud Stokvis, twittertheoloog Alain Verheij, religiewetenschapper Mathilde van Dijk en historisch antropoloog Yme Kuiper.
De Nacht van de Levensbeschouwing is georganiseerd door de SKLO (Studentenkoepel voor Levensbeschouwelijke Organisaties), en het GSp (Groninger Studentenplatform voor Levensbeschouwing) i.s.m. Studium Generale Groningen.
---
overizcht workshops
 
Eerste ronde: 21.00 – 21.45 uur
Jort van Ast – Workshop Mindfulness
Frederickamer | Nederlands
Een laagdrempelige en inleidende introductie mindfulness door Jort van Ast

Bragi - Know the Score: Soundtracks of Star Wars, Lion King en Pirates of Carribean
Gewelven | Language no problem
Student orchestra Bragi will play some pieces of iconic film music composed by John Williams, Hans and Ramin Djawadi with a Dutch introduction by composer and conductor Chris Fictoor.

Aline Douma - Power resides where men believe it resides': Religion in the World of Game of Thrones
Librije | English
PhD-student Aline Douma, a literary historian specialized in medieval English literature, will investigate the worldview offered by Game of Thrones and what this tells us about our modern views on religion.

Mathilde van Dijk - The Way of the Force: Religion and Spirituality in Star Wars
Kapel | English
Is Jediism, the religion created by Star Wars fanatics, a real religion? Mathilde van Dijk, specialized in Christian history, explains what makes this new spiritual movement popular and relevant to today's secular society.

Dan Hassler-Forest - Oh my Disney: Are Disney Movies as Innocent as they seem?
Hoogkoor | English
Who has not grown up with Disney's magical tales? They are not just enjoyable children's stories, they also teach us moral lessons. But are these stories as innocent as we think? Dan Hassler-Forest, who researches film culture, reveals that Disney by no means is innocent entertainment.
---
Tweede Ronde: 22.00 – 22.45 uur
Yme Kuijper en Ruud Stokvis - Lege kerken, volle stadions: Is voetbal een religie?
Kapel  | Nederlands
Is voetbal een nieuwe soort religie, zoals Johan Derksen beweerde? Een gesprek tussen antropoloog Yme Kuijper en voormalig Nederlands Olympisch roeier Ruud Stokvis o.l.v sportjournalist Mark Vallinga.
Alain Verheij - Gaan religie en popmuziek samen?
Hoogkoor | Nederlands
In deze workshop zal Alain Verheij, onafhankelijk (twitter)theoloog, levensbeschouwing en de cruciale rol die popmuziek speelt in onze identiteitsconstructie op een verrassende manier met elkaar verbinden.
Bragi - Know the Score: Film Music of Star Wars, Batman en Pirates of Carribean
Gewelven | Language no problem
Zie ronde 1
Jort van Ast – Workshop Mindfulness
Librije | Nederlands
Zie ronde 1